---
Kibworth CE Primary Curriculum Statement
---
Our Curriculum is:
Relevant to children and their futures
Addresses the current issues we face in the Environment
Develops understanding of and deep respect for the beliefs and cultures of others
Builds the knowledge and basic skills for a future beyond this school
Is engaging and motivating
Our Mission is to develop children who:
Are inspired learners
Are good citizens
Are independent thinkers
Have enquiring minds
Are great friends
Let their Lights Shine
Our Intent …
Our curriculum has been developed to create children who Let Their Lights Shine by being:
Successful Learners:
who enjoy learning and have the knowledge to achieve their full potential.
Confident Individuals:
who have enquiring minds, get on with others and show resilience
Responsible Citizens:
who believe in global responsibility, equality, develop empathy and show kindness to all
Balanced Individuals:
who know how to keep themselves healthy, both physically and mentally, to support their long term well-being.
who have strong Christian Values developed through our distinctively Christian ethos and an enriching and rigorous RE and Collective Worship curriculum, who understand the life giving message of Jesus
This is the philosophy of how we want to work and learn. These aims underpin all of the learning that takes place in our school. Each strand has clear focuses to ensure we develop the whole child and we intent pupils to have a wide range of experiences that add to their overall character.
Explore each strand in greater detail below:
Successful Learners
Are fluent and effective readers who have a rich vocabulary and enjoy reading for pleasure
Have secure basic skills that ensure they are literate and numerate, writing, calculating , problem solving and reasoning with confidence
Have a deep knowledge and understanding of the National Curriculum that prepares them for future learning beyond our school
Have a belief that they are creative and can achieve what they set out to do in their own way
Can communicate articulately and confidently in a range of forms and situations
Have an understanding of and deep respect for the beliefs and cultures of others
Responsible Citizens
Are aware of the wider world and has a sense of their own role as a world citizen
That understand their responsibility to the Environment
Who respect and value diversity and equality
Are committed to democracy and justice and take responsibility for their actions
Participate in the community at a range of levels, from the local to the global
Have empathy for others
Confident People
Self Manage by organising themselves and work out goals and priorities
Effectively take part in school life and develop the skills to listen and discuss
Think creatively by generating and exploring relevant ideas, and making original connections
Reflect on learning by evaluating their strengths and limitations as learners
Develop independent lines of enquiry by gathering, processing and evaluating information
Work confidently with others, adapting to different contexts and taking responsibility for their own role
Balanced Individuals
Have strong Christian Values to guide the choices they make in life
Understand their own spirituality and value that of others
Understand why it is important to keep fit and be active
Know how to make healthy lifestyle choices
Know how to make friends, stay friends and resolve difficulties
Know the importance of mental wellbeing and how to develop strong mental health
Implementation
As a whole school, we provide a subject based, broad and creative curriculum. Each subject discipline has a clear progression of the knowledge that is to be taught and teaching strategies are choosen carefully to ensure that this knowledge is embedded, practiced and retained.
Learning is linked together through the use of curricular vehicles to ensure that children have a coherent understanding of the connections that should be made between subjects and how knowledge is transferable.
For a more detailed look at our school curriculum, please explore the links below:
Mathematics
At Kibworth CE Primary School, we plan mathematics using National Curriculum 2014, using the Affinity Teaching School's Mathematics Calculation Policy and the scheme of work carefully put together by mathematics leaders in Discovery Schools Academy Trust, of which Kibworth is the lead school for.
Our mathematics curriculum equips pupils with tools that include the ability to calculate securely in all four operations, a comprehensive understanding of the number system, problem-solving skills, and the ability to think in abstract ways. It is designed to enable children to learn key skills, practise, consolidate and apply them and then to master them. Children learn about mathematics wherever possible in a context so that they understand how it relates to real life.
During the Early Years Foundation Stage (EYFS) Curriculum, mathematics forms part of many interactive learning experiences. Pupils develop their knowledge and understanding of mathematics through play, exploration and discussion. They learn to count, read, write and order numbers to 20 using songs and rhymes, which is extended to 100 and beyond during The National Curriculum in Key Stage 1. They work with shapes, learning their properties; use language to give positional clues and compare quantities, identify and recreate patterns. Mathematics in EYFS is very practical and includes indoor and outdoor learning.
During Key Stage 1, mathematics lessons include mental mathematics starters which are designed to be faster paced and enable children to calculate mentally as fast as they can. In their main lesson, they learn how the number system works and learn strategies for calculating with all four operations. Additionally they learn about shape and space, through practical activity which builds on their understanding of their immediate environment. They develop their use of mathematical language, using it to talk about their methods and explain their reasoning when solving problems.
During Key Stage 2, children move to calculating fluently with all four number operations, moving to formal traditional methods throughout the Key Stage. Children use a wider range of mathematical language and expected to articulate their reasoning about mathematics clearly, using precise mathematical language. A large focus is on problem solving and in all areas of the mathematics curriculum, problem solving skills are developed and built upon.
Calculation Policy
Addition
Subtraction
Multiplication
Division
EYFS
End of Year Expectations
The PDFs below contain the skills based, end of year expectations for each year group. At Kibworth Primary School we strive to make sure every child fulfils their full potential by meeting their individual learning needs. Although every child is different and will be successful in different areas, the information below is the national expectation for each year group.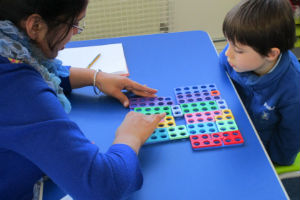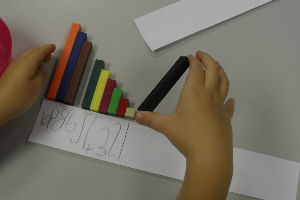 English
At Kibworth C of E we use English to communicate in both written and spoken form. We use language to build our view and opinion of the world and our community. We believe that developing a love of our language in our children is vital in achieving success at school and later in life.
The exploration and enjoyment of the English language is our priority and we value all its aspects – speaking, listening, reading and writing. English is taught daily across the whole school with work appropriately differentiated to match all abilities.
Speaking and Listening
Talking is fundamental to learning. Pupils are encouraged to speak clearly, confidently and with expression in order to state their ideas and opinions.
Just as important, is the need to listen carefully to others and respond in appropriate ways. At Kibworth CE Primary, pupils are given opportunities in all areas of the curriculum to develop their speaking and listening skills, in paired, group or whole class situations. Therefore, role play, poetry recital and drama are key elements of speaking and listening across the school.
Reading
Children who read for pleasure gain a richer vocabulary, more knowledge, critical thinking skills and become independent learners. Guided Reading is an important part of our curriculum. Children work in focused groups to develop their reading skills and their understanding of texts. We provide children with rich reading experiences within the English lessons and encourage them to appreciate the author's use of language and writing techniques in order to develop their own writing skills. Our children take their reading books home daily to share with their families/carers. As they go through the school, they are given more responsibility for making their own reading choices from the excellent resources we have in school.
Spelling
We place great value on the importance of accurate spelling. A structured programme of spelling extends across the whole school, beginning with Jolly Phonics in EYFS and LCP (Letters and Sounds) in Key Stage 1. There is a natural transition to the Support for Spelling programme at the end of Key Stage 1 and beginning of Key Stage 2, and this continues to be used through to the end of Year 6.
Writing
At Kibworth CE Primary we aim for children to be independent writers. We encourage them to write clearly and with confidence in any given genre. We teach them to use punctuation and grammar accurately, to be able to proofread their own work and make amendments and improvements. We place value on the development of correct letter formation and neatly presented handwriting. We give children a wide range of opportunities in which to develop their writing skills and display work of which they are proud. Through our English curriculum, we aim to nurture in the children a love of literature and language, and the confidence to continue reading and writing throughout their lives.
End of Year Expectations
The PDFs below contain the skills based, end of year expectations for each year group. At Kibworth Primary School we strive to make sure every child fulfils their full potential by meeting their individual learning needs. Although every child is different and will be successful in different areas, the information below is the national expectionation for each year group.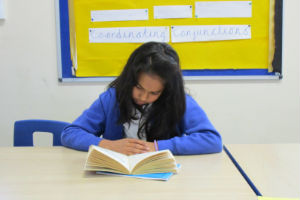 Phonics
Phonics is a way of teaching children to read skillfully and successfully. Children are taught to recognise the sounds that each individual letter makes and identify the sounds that different combinations make - such as 'sh' or 'oo'. They are then taught to blend these sounds together from left to right to make a word.
Children can use this knowledge to 'de-code' new words they hear or see. This is the first important step in learning to read. Phonics lessons are taught everyday for 20 minutes throughout Key Stage one and at Kibworth we follow the Letters and Sounds scheme which splits the teaching of phonics into phases. Alongside letters and sounds we use Jolly Phonics in Foundation Stage and LCP scheme in KS1. The children are split into ability groups so they can work to their full potential.
We beleive all children who recieve good teaching of phonics will learn the skills they need to tackle new words. They can then go on to read any kind of text fluently and confidently, and to read for enjoyment.
Phonics works best when children are given plenty of encouragement and learn to enjoy reading a whole variety of books.
If you wish to know how you can help your child with phonics, please click here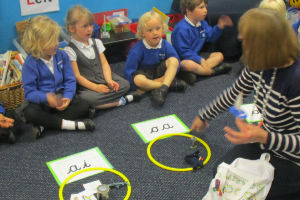 Science
Science stimulates pupil's curiosity, develops their sense of enquiry and their understanding of the world around them. Children learn to work as scientists, planning and undertaking practical investigations on their own and with others.
At Early Years Foundation Stage, activities are planned in relation to the "Understanding the World" area of the foundation stage curriculum. Children's progress and achievements are assessed against the Early Learning Goals at the end of reception.
In Key Stages 1 and 2 the science curriculum is planned through cross curricular topics and specific science lessons. Science planning follows our scheme of work which ensures that the essential skills are met within each phase. Children complete at least 2 science investigations per half term.
Wherever possible, links are made between other subject areas including literacy, maths, ICT and Geography. The relevant essential science skills are covered through the topic areas taught. In Key Stage 1 pupils begin to explore, collect and evaluate evidence and communicate their findings through the use of scientific language, drawings, charts and photographs. At Key Stage 2 pupils plan and carry out their own investigations and apply their scientific knowledge to real life problems and discuss the most appropriate way to communicate their ideas.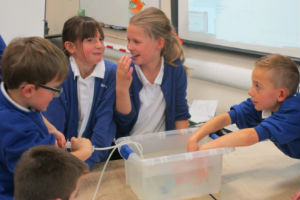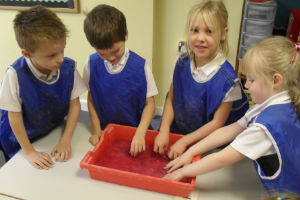 Geography
Geography develops children's knowledge and understanding of people and places. At Kibworth CE Primary, we learn about the wider world as well as local areas, looking at the physical, social and economic issues surrounding each case study. Use of maps, atlases, photos and the internet ensures a well-balanced and interactive method of learning for all pupils. There are many cross-curricular links with subjects such as literacy, numeracy and ICT. In the Foundation Stage, children learn about similarities and differences in relation to places, objects and materials. They are able to discuss their own immediate environment and understand how environments may vary from one to another.
During Key Stage 1 and 2, pupils explore physical and human differences in the world around them. Children learn about the skills needed to ask geographical questions about a locality in the UK compared to a locality in a less economically developed country. Children are taught how settlements differ and change and they understand environmental issues linked to these. Children also learn about water and its effect on landscapes such as rivers and coasts. They are taught differences in weather and the effect of climate change.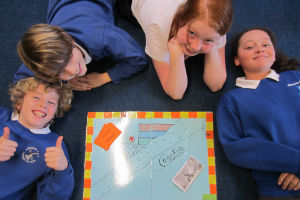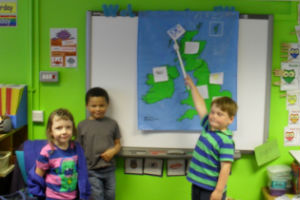 Design & Technology
Design and Technology provides our children with an opportunity to tackle problems of a practical nature. The cross curricular nature of Design and Technology offers a setting for the children to apply knowledge and skills from a number of other subjects including art, language, maths and science. Skills are developed using tools and machines in designing and making artefacts and food products with an emphasis on healthy living. Working with a variety of materials aims to help children learn important life skills. children learn independently and in groups, learning to co-operate, plan, design and make and evaluate their work. They learn to make their own decisions with help and encouragement.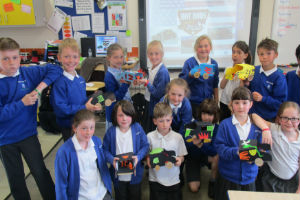 Music
Music is taught throughout the school as a class subject and in cross-curricular way. The aim is to develop each child's musical potential giving opportunities for self - expression and creativity.
Instrumental tuition is available to those children in Key Stage 2 who wish to take advantage of it. The children are taught individually or in small groups and parents are required to meet the cost. Children who play instruments are encouraged to utilise their skill in school by playing for assemblies. Children learn to make music together and compose their own music through whole class teaching of Ocarina and specialist tuition through the Darbar Indian music Project. We, and a well-established choir who take part in concerts throughout the year. All children learn to sing together with our specialist Choir Leader.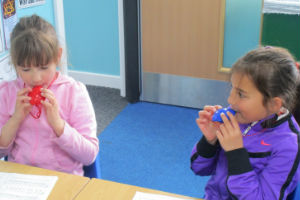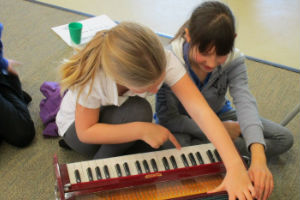 Art & Design
Art and Design contributes to the development of the whole child emotionally, aesthetically, physically, socially and cognitively. It provides all children with the opportunity to express themselves imaginatively, creatively and develop their understanding of, and respond to the world around them. Pupils are exposed to many visual, tactile and sensory experiences. Kibworth CE Primary enables pupils to become involved in, enjoy and appreciate the visual arts and how it can enrich their personal lives. They learn the part that art and design plays in their own and others' lives, in contemporary life and in different times and cultures. At Kibworth CE Primary we seek opportunities for children to work with professional artists.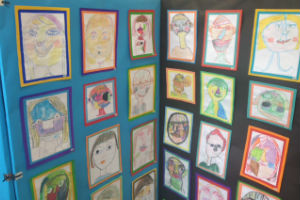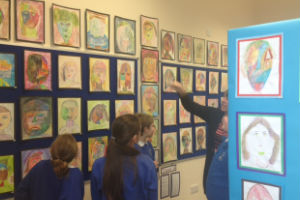 Information & Communication Technology
We aim for the children to confidently and independently use and apply information technology skills to support and extend their learning. We develop a culture where the use of ICT becomes second nature to our pupils, thus ensuring they are ready and able to embrace the technological advances of the future.
The school has a wealth of technology which enriches the learning experiences of children across both key stages. Every child has at least one session in the ICT suite each week and will regularly use Netbooks or iPads to support their learning in other areas of the curriculum. Children at EYFS have access to their own desktop computers, as well as iPad minis.
Fully immersed in ICT, the children are taught using Interactive whiteboard and visualisers with digital cameras, voice recorders, data loggers and numerous other technologies also playing an important role in establishing a fully integrated approach to ICT teaching. Our children are taught how to access information, evaluate its suitability, store it, share it with others and tailor it to meet their own needs.
In each year group, the children learn how to navigate the Internet safely and communicate respectfully through emails and the virtual learning portal, where they develop their own e-portfolios and blogs at KS2. In line with this, all children and parents sign a user agreement at the beginning of the year to ensure that all members of the school's community understand the e-safety policy and what is deemed acceptable when using the schools technology.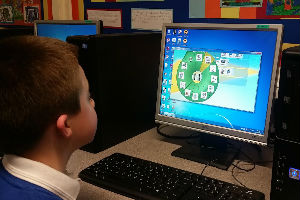 History
At Kibworth CE Primary, we view History as a way to inspire pupils' curiosity about the past. History presents children with the opportunities to develop fundamental skills of enquiry and questioning; to become open minded 'historical detectives' and explore the past in an exciting and engaging way. Our history curriculum aims to bring history to life, in order to help pupils to understand the process of change and the diversity of societies, as well as understanding their own identity and the challenges of their time. It is designed to enable the children to develop their knowledge of the people and events that have shaped the past, and therefore give them a better understanding of the present. Through History, children learn to make comparisons and links between the past and modern times and discover how and why things have changed.
History at Kibworth Primary is taught through our cross curricular topics; which ensures the continuity and progression of skills, whilst providing engagement for all pupils. Our children study a wide range of ancient, British and world history, learning about famous historical figures and exploring how and why they have influenced our lives today. We enable opportunities for our children to explore the past through the use of a variety of sources of information to find clues and evidence and take part in discussions with their peers. We also aim to provide first hand experiences with role play, class assemblies, historical visits, workshops and visiting experts playing an important part in all our topics. At the end of a unit, our children enjoy expressing what they have learnt in a variety of interesting and creative ways including; writing, art, drama and ICT.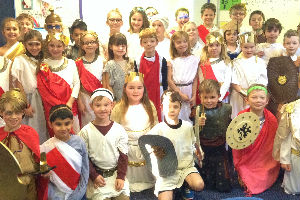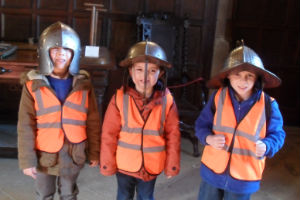 Physical Education
Physical Education develops children's physical skills, confidence, capabilities and potential. It gives opportunities for children to be creative and competitive while learning to work with and respect others. At Kibworth CE Primary School children learn how to plan, perform and evaluate actions, often in pairs and small groups, helping them to develop the quality and effectiveness of their work. We promote a positive attitude towards active lifestyles and aim to introduce children to lifelong physical activity.
In addition to being taught by their class teacher children across the school are also taught by PE teachers and coaches who are specialists in their field. Our aspiration is for all children to do a minimum of 2 hours PE a week.
The school runs a range of after school clubs which involve children in competitive and friendly sporting fixtures. These include gymnastics, basketball, multisport, football, dance, handball, contact and tag rugby, racket sports, netball, hockey and cross country. The school plays competitive sport in the South Leicestershire Leagues and within DSAT.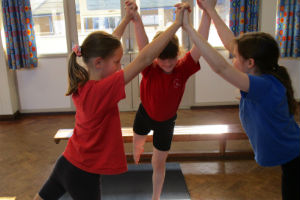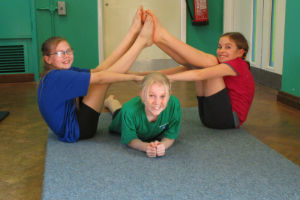 Religious Education
At Kibworth C of E Primary School, children are taught to understand and respect the importance of religious beliefs in the world around them. We encourage children to use and develop their skills in RE and to participate in critical and reflective thinking. We aim to ensure that the RE curriculum is challenging, dynamic and relevant to pupils of all ages.
In the Foundation Stage, RE is taught through topics based upon children's own lives and their experiences. The children participate in real life experiences through celebrations and festivals in a variety of cultures.
During Key Stage 1 the children study Christianity and at least one other principal religion in depth, such as Judaism and Islam. There are a variety of opportunities for children to participate in cross curricular learning. There is also consideration for non-religious beliefs.
In Key Stage 2, the study of Christianity is developed and religious beliefs within Hinduism, Buddhism, Judaism and Islam are explored.
| | |
| --- | --- |
| | |
| | Christingle |
Collective Worship
As a church school, collective worship at Kibworth CE Primary is an integral part of school life. It creates, nurtures and sustains a sense of community and creates an opportunity to bring to life the core values of the school and local area. Each week we focus on one worship theme, allowing us to come together, celebrate children's achievements and provide an opportunity for pupils to reflect. Our close relationship with St Wilfrids Church provides children with another regular link to the Christian faith. Pupils are involved in various services at the church throughout the year and church members actively contribute weekly to collective worship themes at the school.
Early Years Foundation Stage
At Kibworth C of E Primary School our aim is to develop children who are independent learners and aim to ensure they lead their own learning through an innovative and engaging curriculum. Their experiences are based on the EYFS curriculum. Within this there are seven areas of learning and development. All areas of learning and development are important and inter-connected under the umbrella of a thematic approach to learning.
Three prime areas are particularly crucial for igniting children's curiosity and enthusiasm for learning, and for building their capacity to learn, form relationships and thrive.
These three areas, the prime areas, are:
Communication and language.
Physical development.
Personal, social and emotional development.
Additionally there are four specific areas, through which the three prime areas are strengthened and applied. The specific areas are:
Literacy.
Mathematics.
Understanding the world.
Expressive arts and design.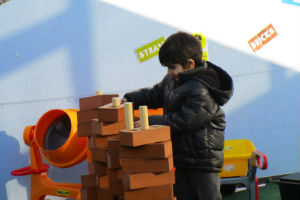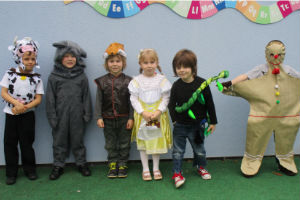 Modern Foreign Language
Learning a foreign language provides a valuable educational, social and cultural experience in preparation for future life. It is important that children are aware of the world that they live in and are able to communicate effectively with those around them. At Kibworth CE Primary, we teach French throughout Key Stage 2, providing children with the opportunity to practise speaking, writing and reading in another language as well as developing their intercultural understanding. Children in some year groups even have the opportunity to learn Mandarin at lunchtime clubs run by our Chinese language assistant. Through different activities, such as songs and games, we aim to instil in children a love of language learning and a curiosity about other cultures around the world.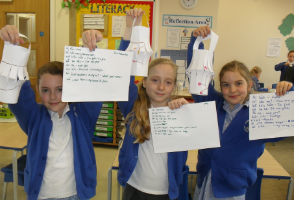 Personal, Social, Health, Citizenship & Economic Education
"PSHCE education is a planned programme of learning through which children and young people acquire the knowledge, understanding and skills they need to manage their lives. As part of a whole school approach, PSHE develops the qualities and attributes pupils need to thrive as individuals, family members and members of society." The PSHE Association
Section 2.5 of the National Curriculum framework document states that:
"All schools should make provision for personal, social, health and economic education (PSHE), drawing on good practice."
At Kibworth C of E Primary School, we teach the key skills through the following seven areas:
Relationships
Health
SRE
Financial Capability
Citizenship
Enrichment Activities
SEAL
PSHCE (like SMSC) is embedded throughout daily life at Kibworth. We model positive relationships, self- image and communication skills with others in all our day-to-day interactions, as well as teaching skills explicitly in discrete subjects such as Circle Time, P.S.H.E. lessons and assemblies. Children at Kibworth also experience these key skills through RE, history, geography, literacy, maths, art, music and science, as well as outdoor learning, educational visits and links with the wider community.
Coverage of these areas, and the associated social skills from the framework, are already embedded here at Kibworth, we aim to ensure that we produce well-rounded, happy and healthy children - ready for the wider world.
Sex and Relationship Education
We follow our sex and relationship education policy which has been set up in accordance with county, Leicestershire Healthy Schools unit. We use the living and growing resources, also linked to science, which provides focused learning for all year groups covering all areas of sex and relationship education.
Drugs Education
The School has a policy for the delivery of Drugs education that is cross curricular.
Special Educational Needs
The curriculum is planned through a whole school approach to curriculum planning, taking into account progression and differentiation; all pupils, irrespective of their circumstances, have the opportunity to acquire the essential knowledge and skills that they need to succeed in life, this ensures that the national curriculum is taught in ways that enable all pupils to have an equal opportunity to succeed.
The work for some children is supported by Basic Entitlement and IEPs which teachers use as part of their daily planning with reasonable adjustments for pupils' specific and individual needs. Additional support and intervention is provided for identified groups and individuals. Children with EHCP and Statements of special education needs are supported in accordance of their needs.
Curriculum Enhancement
The curriculum is enhanced by using visits and speakers whenever possible. We aim that each class should have one of these enhanced opportunities each term. Each year there is the opportunity for the children to enjoy some form of theatre experience. There are opportunities for the children to take responsibilities within their class and the whole school. Children have opportunities to be School Councillors, House Captains, Play leaders or Eco Warriors, Faith Followers, Friendship officers, safety officers, Reading Champions and a variety of other School Council sub groups. Children from Years 4, 5 & 6 work alongside younger children both as play leaders and reading buddies.
Out Door Learning
At Kibworth Primary School we offer children the opportunity to learn in a range of ways. We believe children should understand where their food comes from and how to lead a healthy life. That they should learn a range of life skills. We have an allotment where we grow fruit and vegetables throughout the year. The children have worked to set up our allotment measuring and digging the path ways and beds. Some of our children even helped construct the bench inside our poly tunnel! They drew plans, worked out how much wood they needed and then using woodworking and maths skills constructed the bench. The children take part in planning what we grow, preparing the ground, planting the seeds, planting out, looking after the plants and harvesting the food. Some of our food id sold to the parents and some is used by our children when they are cooking either food technology lessons or cooking clubs. The children monitor the temperature in our poly tunnel and on the allotment. They also keep a running record of the weather conditions and the amount of rainfall. We also have chickens. The children take care of them, cleaning them out, feeding them and collecting the eggs. The eggs are sold to pay for the food the chickens eat.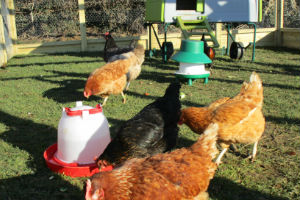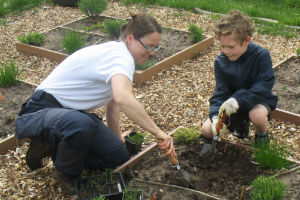 Focus Days & Weeks
Some aspects of the curriculum are delivered through focus weeks and days. The timetable is suspended and activities are focused on a key theme. Recent focus weeks have included art, sport, international learning and enterprise.
| | |
| --- | --- |
| | |
| Sports Week | China Week |
Extended School Opportunities
The school offers a variety of clubs for children to participate in during and after school. These include Football, Gymnastics, Multisport, Basket Ball, Netball, Cricket, Gardening, Board games, ICT, Cooking, Art, handball, Rugby (contact and tag), Film, Drama, Cross country and Choir.
| | |
| --- | --- |
| | |
| Cooking Club | Cage Football |
Promoting British Values
The DfE have recently reinforced the need "to create and enforce a clear and rigorous expectation on all schools to promote the fundamental British values of democracy, the rule of law, individual liberty and mutual respect and tolerance of those with different faiths and beliefs." The government set out its definition of British values in the 2011 Prevent Strategy. These values have been reiterated by the Prime Minister this year. At Discovery Schools Academy Trust and Kibworth CE Primary School British values are regularly reinforced in the following ways:
Democracy
As a Church of England school our Christian values of Patience, Love, Joy, Peace, Goodness, Respect, Kindness and Faithfulness were chosen by the whole school community. These values are displayed taught and promoted throughout the school and throughout each academic year. They underpin our work as a school and very effectively reinforce all aspects of British values education.
Pupils have the opportunity to have their voices heard through our School Council and council sub committees. The election of two year group representatives is organised through pupil vote from each year group, from Year 2 – 6, for those pupils who wish to stand for office. The Chair and Vice Chair of the School Council are elected from Year 6, following candidates taking the opportunity to campaign throughout the school for one week. Each candidate has the opportunity to make a speech which gives them a chance to explain why they wish to be elected and how they would like to lead the Council. Additionally there is a mentoring system where the previous year 5 representatives act as mentors for the incoming Council.
Additionally elections are held on an annual basis for representatives on the School Council sub committees. These change regularly but currently include food officers, faith followers, friendship officers, eco warriors, reading Champions and art champions.
Every year pupil views are sought through questionnaire on a wide range of school matters including enjoyment of school, quality of learning, standards of teaching and behaviour and matters related to safety. We use the outcomes of surveys to make adjustments and improvements where necessary.
The Rule of Law
The importance of laws, including those governing the individual, the class and the wholeschool, are consistently reinforced. The children understand these laws these as rules. They are taught the reasons why rules exist and the consequences on the individual and our school society as a whole if rules are broken. They also understand that working within agreed rules brings its own rewards.
At the start of each school year class teachers work with children to draw up a Class Charter of age appropriate class rules that all class members sign up to.
Pupils are taught the value and reasons behind British laws, that they govern and protect us, the responsibilities that this involves and the consequences when laws are broken.
Visits from authorities such as the Police and Fire Service help reinforce this message.
Individual Liberty
Within school, pupils are actively encouraged to make personal choices, knowing that they are in a safe, secure and supportive environment. We educate and provide boundaries for young pupils to make choices safely, through the provision of a safe environment and empowering them through education.
Pupils are encouraged to know, understand and exercise their rights and personal freedoms and advised how to exercise these safely, for example through our E-Safety and PSHE lessons.
Whether it be through choice of challenge or working partners, choice of how they record their work, of choice of participation in our numerous extra-curricular clubs and opportunities, pupils are given the freedom to make a wide range of choices.
Mutual respect and tolerance of those with different faiths and beliefs
Respect is a core value within which our school ethos and behaviour policy are rooted. The children are taught to understand Respect both as a Christian and moral value.
Through class, year group and whole school activities and discussions pupils have a good understanding of what respect means and how it is shown. Our class and school rules and our behaviour policy thoroughly reinforce this ethos. Visitors to our school also reinforce the importance of respect.
Tolerance of those of different faiths and beliefs is encouraged through our ethos of respect and through enhancing pupils understanding of their place in a culturally diverse society. We provide our pupils with opportunities to experience the cultural diversity of Leicester and Leicestershire through fostering links with a school on the edge of the city where there is a rich cultural and ethnic mix. Within our RE curriculum we study the background and practices of a range of faiths practiced in Leicester and Leicestershire, including the Hindu, Sikh, Muslim and Jewish faiths. We take our children to visit places of worship of these faiths and provide opportunities for our children to speak with and listen to faith leaders.
Discussions in RE and PSHE lessons at an age appropriate level give pupils opportunities to consider the reasons for and consequences of religious and racial intolerance and prejudice-based bullying.